(click to enlarge)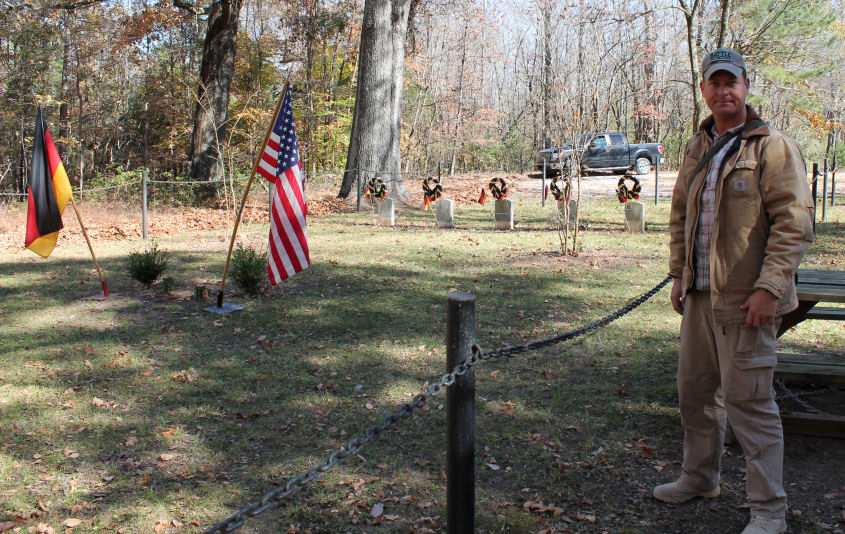 Introduction
Each year on November 1, All Saints Day, the Edelweiss Club of Clarksville, Tennessee conducts a wreath laying ceremony at the graves of five German Prisoners of War who died in the US Army base Camp Campbell, Kentucky in World War Two.
We were there for the 2012 edition of this commemorative event in what is now known as Fort Campbell, KY.
Camp Campbell, KY
In World War Two Camp Campbell, Kentucky was the home of the US Army's 20th Armored Division.
When this unit was deployed overseas, Camp Campbell became a Prisoner of War detention facility for the thousands of German Afrika Korps soldiers who had been captured in the North African campaign. Camp Campbell was a special-purpose camp which served as a safe haven for dedicated "anti-Nazis"
Ironically, discipline at this camp was often a problem as these German democrats quarreled ceaselessly among themselves.
In 1945 the last prisoners were moved from the camp.
During the period in which Camp Campbell held German POW's, several of them had died.
Living conditions had been good because the USA strictly complied with the rules set by the Geneva Convention and therefore the majority of these Germans died of natural causes.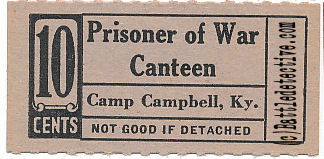 German Prisoners were allowed to work for a modest wage.
An example of their work is the Broadbent Building in nearby Cadiz (pronounced as: "Kay Deez"), Kentucky where POW's not only acted as construction workers but had a clear influence in the engineering design:

5 Graves
After the war only five bodies in the same amount of graves remained on post.
Due to the constant post-war expansion of Camp Campbell, named Fort Campbell today, these graves have been moved several times.
Today they rest in what is named the # 001 German POW cemetery in the South-West corner of the facility.
This cemetery is on a remote and secluded part of the Fort Campbell US Army facility.
Well in advance we had made an appointment with the unit historian of the 101st Airborne Division (Air Assault), Captain James Page and in his truck we drove to the cemetery.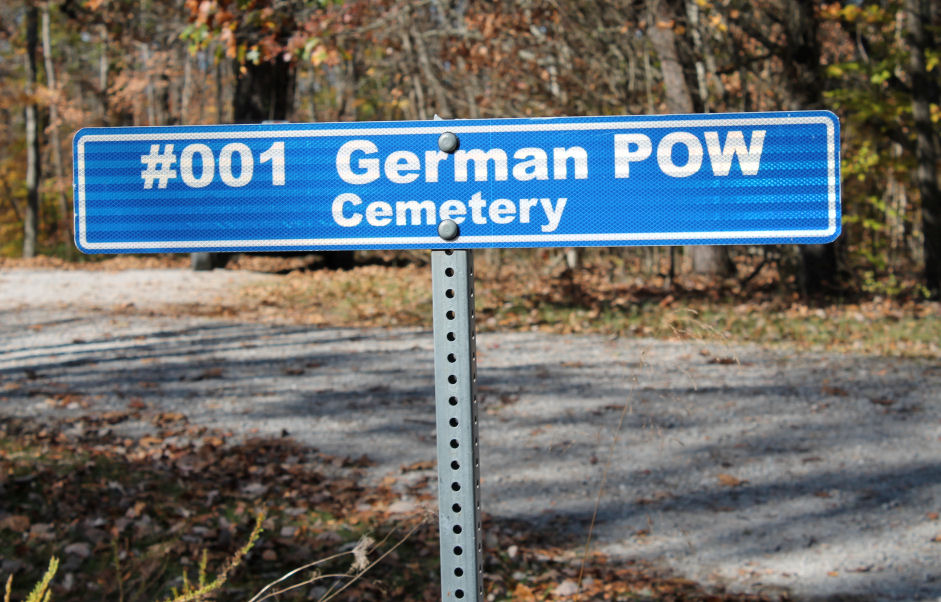 Edelweiss Club
Upon arrival we witnessed the preparations for the ceremony by members of the Edelweiss Club.
This club was formed in 1981 and organizes monthly and annual meetings, functions and festivities such as the Oktoberfest of Clarksville, Tennessee.
The Edelweiss Club has taken over the responsibility (with the assistance of Boy Scout Troop 525) of maintaining the Prisoner of War Cemetery, located on Ft. Campbell.
Each 1st of November (All Saints Day) members hold a ceremony in keeping with German tradition, honoring all deceased soldiers.

Ceremony
When the time of one o'clock grew nearer, more and more people came to the site.
We chatted with several Edelweiss Club members, among who was Katja.
She lives in the USA for eight years and sings the German anthem on many of the club's events.
Also, several representatives of the Fort Campbell military community where present.
At 13:00 the ceremony started with a welcome speech by Carl Eisemann of the Edelweiss Club.
Eisemann retired as a US Army AH-1 Cobra Helicopter pilot in the 1990's and became a realtor in Clarksville.
A prayer by Fort Campbell Installation Command Chaplain Captain Taylor followed.
The American and German national anthems were played followed by a German song named "Der gute Kamerad" sung by Edelweiss Club members.
This song, "The good Comrade", is a traditional German mourning song.
It plays an important ceremonial role in the German Armed Forces and is an integral part of a military funeral.
(click for an enlargement)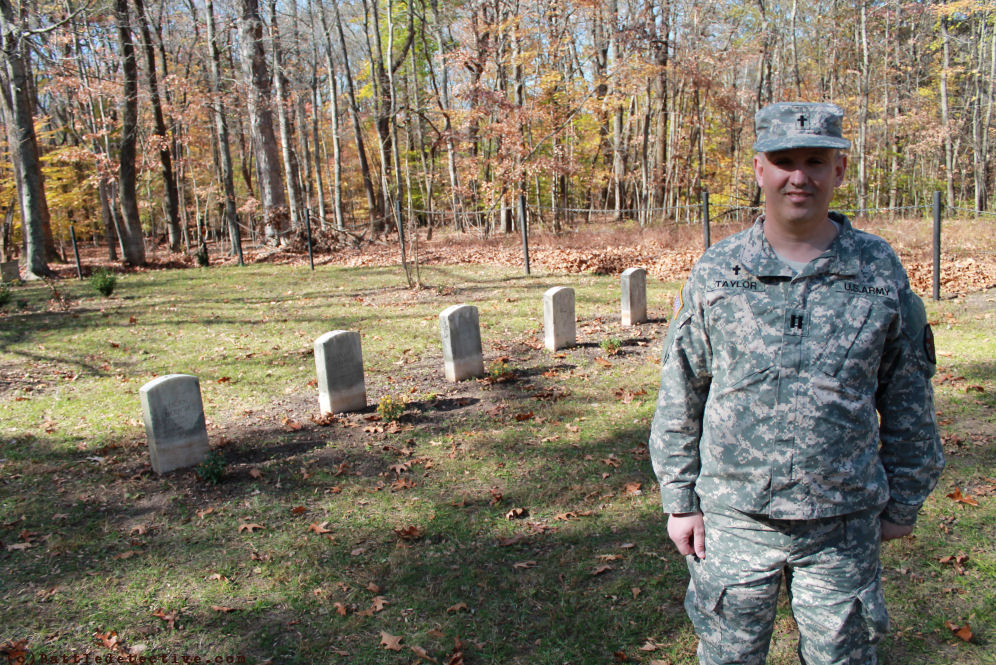 Fort Campbell Installation Command Chaplain Captain Taylor
After the ceremony a group photo was taken.
(click for enlargement)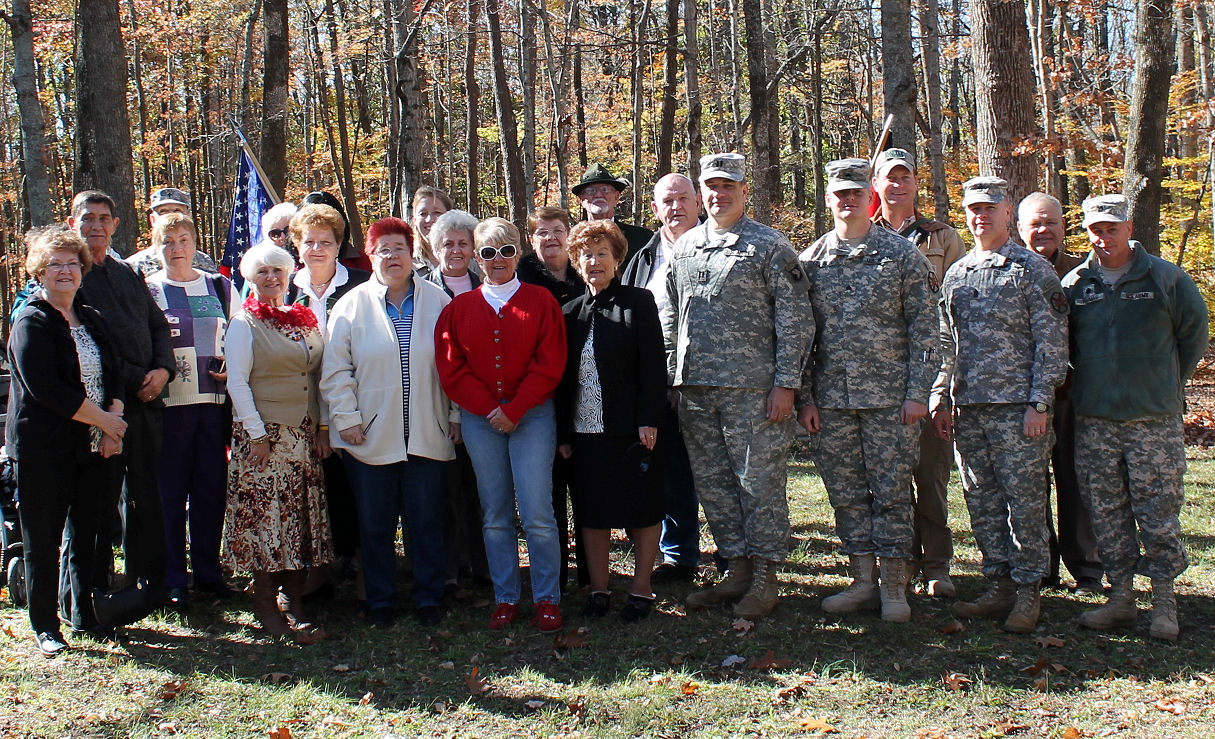 The names of the German soldiers are:
Obergefreiter Eugen Ulrich, who died on 03 DEC 1944
Obergefreiter Kurt Franke, who died on 02 JAN 1945
Gefreiter Herbert Lindner, who died on 11 JAN 1945
Gefreiter Josef Reidinger, who died 22 JAN 1945
Soldat Guenter Cassens, who died on 18 SEP 1945
German regular Army ranks
The ranks of these soldiers indicate their enlistment in the German Regular Army; not in the notorious SS which has other rank indications.
This is consistent with the character of Camp Campbell as an anti-Nazi detention facility.
Except for Gefreiter Reidinger, these soldiers died from decease like pneumonia.
Of Reidinger it is known that he had escaped the Camp and was caught in the L&N Railroad station in nearby Clarksville, Tennessee where he was shot by Military Police personnel when he tried to evade them.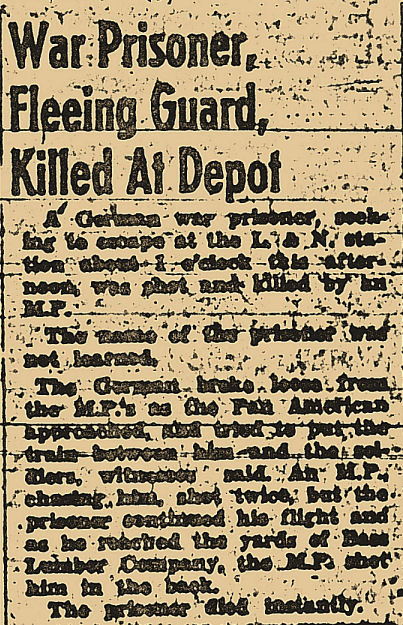 Source: Captain James A. Page
General Staff 101st Airborne Division (Air Assault)

L&N Station in Clarksville
These are some images we took recently of the L&N Station in Clarksville, Tennessee, made famous by the 1960's song "Take the Last Train to Clarksville" of The Monkeys:
We have witnessed a worthy ceremony commemorating the lives of five Word War Two soldiers who were taken Prisoners Of War but, despite a decent treatment by their captors, never returned to their fatherland.