Wounded in Holland
A few months after the actions in Normandy, in September of that same year 1944, Captain Hancock again led his "C" Company into battle. In Holland this time. On D-Day of Operation Market Garden, his Company, together with other elements of 1st Battalion of the 502nd, liberated the Dutch town of Sint-Oedenrode.
Later during the operation, Captain Hancock took charge of the defense against a German counter attack on the Northern edge of town. Along the road leading from Sint-Oedenrode to the town of Schijndel, Captain Hancock was wounded in action.
Our source told us that after the war, Captain Hancock showed him the exact location.
The Captain's eyeglasses
Whether Captain Hancock wore his glasses in combat is unknown but likely as contact lenses had yet to be invented in 1944.
These photographs show "C" Company's commander: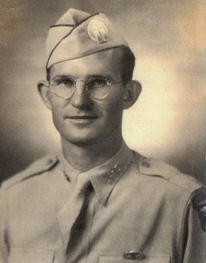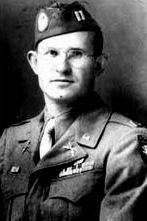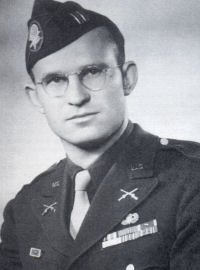 Our source is in the possession of the glasses in the photographs. We asked him about how he got them. Modestly, he answered:
"Actually it is quite a plain story. Unexpectedly, in March of 2006 I found a parcel in my mail box... from the son of Fred Hancock (C/502). He thought that I could do something with it... It fits on the M42 jumpsuit of Fred nicely. The son had found the glasses when he was clearing his father's house. Of course, I had been in touch with Fred for the last 10 years and after his death I still am in contact with his sons on a weekly basis.
I am sorry, I can't make the story any longer...!"